VMWare Virtual Machine Data & Disaster Recovery

Expert Data Recovery Services For VMWare Virtual Machines and Virtual Systems
Businesses often opt for virtualization because it is the best solution for their needs. If you rely on VMWare software, you know that this type of architecture offers more flexibility, power and scalability.
An immediate response is needed if there is a risk of data loss on a VMWare system. Engineers who have a solid understanding of VMFS structures and who are familiar with VMWare ESX servers or with other infrastructures should work on your virtual machine.
Engineers will also need to access the SAN or RAID device where the file system is located. In a lot of cases, a number of servers are offline due to a data loss that affects the whole file system. This is why a quick turnaround is very important when it comes to VMWare data recovery.
R3 offers VMWare data recovery services that always keep your files safe. We offer quick turnarounds and have one of the highest success rates in the industry. We offer onsite and remote services to recover data as quickly as possible.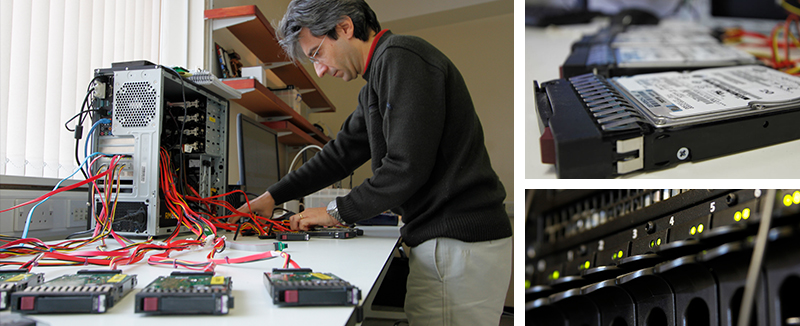 A Comprehensive File System Solution
At R3, we can offer data recovery solutions for different types of VMFS systems, including 1.x flat file systems, 2.x, 3.x, 4.x vSphere and 5.x.
Our goal is to repair the entire file system if it is possible to do so. If this is not an option, we can copy all your folders, including your configuration files and VMDK. These copies will be placed on a local EXT3, NTFS, XFS or EXT4 formatted device so that we can move on with the recovery process and re-integrate your system as quickly as possible.
Time Critical Data Recovery
If a fast turnaround is critical, you should consider using our onsite data recovery service. Our engineers can visit your location to perform data recovery services. This will allow for a much faster reintegration of your systems.
Our engineers need to have access to your RAID or your SAN device and to your hardware. This is your best option if shipping errors and other unexpected problems are a concern.
R3 engineers will bring their own portable equipment and will use all the necessary precautions to keep your media safe during the data recovery process. If our engineers find that onsite data recovery is not possible, the drives that are functioning will be cloned and the failed drives will be sent to our world class data recovery lab. We will be able to use the images taken onsite to recover your entire RAID or SAN system.
Our engineers can get to your location in a matter of hours, which means your data could be recovered within the same day.
We provide industry-leading turnaround times which give you the confidence that's necessary to develop a solid, effective recovery plan. Our skilled professionals will be able to reliably recover data on your virtual machine.
If your VMWare system fails, contact our team of experts at 0800 999 3282 or click here to fill out our FREE, no-obligation diagnositcs form for immediate help and assistance.